Location & Hours
Get Directions
11111 Kingston Pike
Knoxville, TN 37934
| | |
| --- | --- |
| Monday | 7:30 - 4:30 |
| Tuesday | 7:30 - 4:30 |
| Wednesday | 7:30 - 4:30 |
| Thursday | 9:00 - 6:00 |
| Friday | 7:30 - 1:00 |
| Saturday | Closed |
| Sunday | Closed |
Written by

Premier Eyecare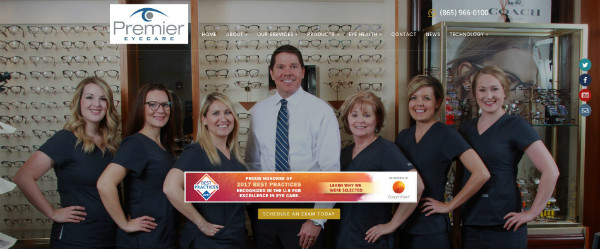 After a lot of hard work with EyeMotion, our website company, we're pleased to be launching our brand-new website. Our goal has been to create a site that would assist you in learning about us, whether it's finding our location or email form, reading about our wonderful eye doctors, or discovering some of our quality products and services.
Have questions about an eye issue? We think you might also benefit from our great optometric content on eye diseases and conditions.
Our plan is to use this area to keep you informed on new offerings, sales, trunk shows, events, and so much more. Check back here from time to time to keep updated.
We're glad you found us, and we hope to see you soon!
Written by

Dr. Brent Fry
Corneal Refractive Therapy (CRT) is a non-surgical way to correct near-sightedness (myopia) without the need for daytime glasses or contact lenses. Rigid gas-permeable contact lenses are prescribed to be worn overnight to temporarily reshape the cornea (clear, front part of the eye). When an idividual is near-sighted, objects are out of focus in the distance because light is focused in front of the retina. This occurs when either the eye is too long, the cornea is too steep, or a combination of the two. CRT lenses are worn overnight which reshape (flatten) the central cornea much in the same way LASIK flattens the cornea with a laser. The difference is that LASIK is permanent and CRT is temporary. The effects of cornea reshaping by CRT lasts from 24-48 hours. If the CRT lenses are discontinued, the cornea will eventually return to its natural shape and therefore, myopia will return. CRT lenses are a great choice for those who are not old enough for LASIK or those who do not want to undergo surgery to correct their myopia.
Many parents are choosing CRT for their children to attempt to slow down the progression of myopia. Although myopia control is not proven and therefore cannot be claimed, there are many articles written on the subject of myopia control. Myopia progression in growing individuals cannot be stopped or reversed by wearing CRT lenses, however, there is evidence that it may help to slow down the progression of myopia. If you are considering CRT lenses for yourself or a family member, I would recommend scheduling an appointment with an eye care professional who is skilled and experienced in fitting CRT lenses. Not everyone is a candidate for CRT lenses, but for those who wear them in my practice, they absolutely love them!