Location & Hours
Get Directions
11121 Kingston Pike
Knoxville, TN 37934
| | |
| --- | --- |
| Monday | 7:30 - 4:30 |
| Tuesday | 7:30 - 4:30 |
| Wednesday | 7:30 - 4:30 |
| Thursday | 9:00 - 6:00 |
| Friday | 7:30 - 1:00 |
| Saturday | Closed |
| Sunday | Closed |
Written by

Premier Eyecare
Oftentimes, contact lens wearers will skimp on their lens care because some of the solutions are costly and it seems like a good way to save some hard-earned cash. This is not a good idea.
Cutting corners can result in infections or irritations, and after one or two copays to your ophthalmologist or optometrist office you will probably spend more than what you saved in a year by cutting corners, plus your discomfort and inability to wear your contact lenses while you are being treated.
The reasons you clean your contacts is to give increased lens comfort, prolong lens oxygen permeability, and to protect your eyes from infection. The reason you have to disinfect your contact lenses is - as nasty as it may sound - your eyeball and eyelids are covered in essential bacteria that are kept in check by your body's immune system. When you remove your contact lens at night it is covered in these essential bacteria. If you don't kill them overnight this will allow the bacteria to grow unchecked and then, instead of inserting a freshly cleaned lens, you are inserting a lens covered in more bacteria than your eye is used to and you end up getting an infection.
Let's talk about the most widely used type of solution - the multipurpose solution. While this is often the most incorrectly used solution, multipurpose solutions are a very safe and effective disinfection method when used properly.
Many multipurpose solutions advertise themselves as "No Rub." Just put it in the case and you are done. This is OK to do, but a quick rub with the no-rub solution in the palm of your hand and the opposite hand's middle or ring finger provide and even better cleaning option. Just the slight roughness of your fingerprint adds a light scrubbing effect that helps improve the removal of surface debris, protein and mucous better than just letting the lens soak overnight. This rubbing of the lens is especially important for women to remove any cosmetics that are rarely removed by just soaking alone. This few seconds of extra cleaning will make your lenses stay more comfortable longer during their wearing cycle, and help to keep the pores of the lenses open, allowing more oxygen to contact your cornea to keep them healthier for your eyes.
Many name brands and store/warehouse brands of multipurpose solutions exist. All are FDA approved to do the same thing: clean/disinfect/rinse/store your contact lenses. You can't really mess them up unless you try. Remove the lenses, lightly rub them with the multipurpose solution, place your lens into a CLEAN and DRY lens case, and cover the lens with solution to disinfect it. Then let it sit for the amount of hours recommended by the manufacturer, generally between 4 to 8 hours, or overnight. Remove the lenses in the morning, rinse with the same multipurpose solution and rinse the lens case out and leave it open to air dry in an area away from your sink and toilet to prevent airborne contaminants from getting into your case as it dries.
The biggest misuse of the multipurpose solution is not changing your case's solution nightly and just adding more solution to the case each night. We call this "topping off the case." This is NOT safe because it will lose disinfection power since the old/used solution was busy killing the bacteria and organisms from the night before. Just adding a little fresh solution will eventually allow for the bacteria to take over and you may be adding more bacteria into your eyes than if you never disinfected the lenses to begin with.
Multipurpose solution companies oftentimes will give you a new case when you buy bigger bottles of solution. This is meant for you to START with the NEW CASE with the NEW BOTTLE of solution. Not to stash the case away and have a drawer full of new cases. There are fungi and other organisms that have been demonstrated to grow from very old lens cases so USE the new case and don't keep it for when you break the old one.
There are many different multipurpose solutions on the market. They aren't cheap and it is tempting to purchase "what is on sale" to save a few dollars. If it does the same thing as the expensive one, then why bother spending the extra? But remember, your contacts are like little sponges that soak up your lens solution. The lens companies don't care if brand A's solution is compatible with brand B's or C's. So over time you can develop a sensitivity to one particular brand of solution, or mixing solutions with the same lens can cause a chemical reaction that occurs because the solutions are not compatible. If you are using the same brand regularly and start having issues your doctor may recommend a solution change to another company that you haven't tried and this may potentially solve your problem. But if you have used several different ones in a few weeks prior to your visit it makes it much harder to determine the cause of your irritation.
The generic/store brands are fine products but a grocery store or discount chain doesn't have a factory that makes their solution for them; they purchase it from a larger supplier. These third-party suppliers can alter their recipe for their multipurpose lens solution and you as the consumer never know. You could just start finding your contacts are not as comfortable as they used to be and it is actually the unknown generic solution change that is bothering you. Brand name companies like Bausch and Lomb, AMO, and Alcon will rarely make product changes without making consumers aware that they've reformulated the product so if something changes with the reformulated product you have a better chance of knowing it than with a generic solution manufacturer.
Finally, there is a product called saline solution. Saline is extremely inexpensive, generally half to a third the price of multipurpose solutions. This is a product made by many different companies and was the first lens solution ever used. Saline solution was initially used in a heat disinfection system where the lenses were boiled nightly. The boiling of the lens provided the disinfection, not the saline solution. The solution was to just to prevent the lens from drying out while you cooked it. You should NEVER use saline solution as a replacement for multipurpose solution. Saline solution is NOT a disinfectant for your lenses. It doesn't contain an agent that will prevent bacteria and organisms from growing in the case overnight and potentially can set you up for infections. However, it's totally acceptable if you want to rinse your lenses in the morning with saline prior to inserting them after they were disinfected with your multipurpose.
Oftentimes, a practitioner will recommend a certain type of solution to help with things like dryness, environmental allergy-sensitive patients, or patients who are allergic to multipurpose solutions. I always recommend to check with your practitioner before making any changes to your lens care solution or lens care routine. The best advice for saving money on your preferred solution is buy extra when it is on sale, buy in bulk, and buy what is most comfortable in a multipurpose solution for you. Then stick with it and use it correctly for many years of happy lens wear.
Written by

Premier Eyecare
More middle-aged and older adults are wearing soft contacts than ever.
And one of the biggest reasons they decrease or stop wearing contacts is the difficulty they face reading with their contacts after presbyopia begins to set in around the early 40's.
Presbyopia is the diminished ability of the natural lens in our eyes to focus up close on near objects. It begins with the occasional medicine bottle being a struggle to read to eventually even having a meal is blurred. As I am going through this problem myself, it is very frustrating to stare at something up close and have it be blurry regardless of what I do.
So there are three basic choices a contact lens wearer can do to aid their reading while still wearing contact lenses.
Reading Glasses
Initially, the use of an over-the-counter reader or prescription reading glass for occasional use works well for people in the early stages of presbyopia. They are worn over distance contact lenses so there is little adjustment and vision is clear near and far. However, they need to be with you, not left in the car or at work, and oftentimes people end up just wearing readers all day since it is just that much clearer.
Monovision
This fitting technique can be used with any type of contact lens. The brand of lenses you are currently wearing can often be used to fit you with monovision. Your dominant eye is determined. Then the non-dominant eye prescription is adjusted to compensate to make it a reading contact lens. So once fitted you have one eye for distance and the other for reading. Yes, it sounds really crazy, but it actually works quite well. Your brain initially has to adjust to using each eye individually to obtain the sharpest vision, but once this is achieved, year-to-year adjustments can be made to the reading eye to allow comfortable distance and reading vision for many years.
Monovision fits are not always successful. Some people just cannot adjust to it regardless of motivation or desire. It seems to work best when someone has had some difficulty with reading and they are noticing more and more that they need their readers. At that point, they can appreciate the ability to read and their brain seems to adapt more readily. When I wear my contacts this is the option I have used for myself.
Multifocal Contacts
Another option is multifocal contact lenses. Most every major manufacturer of soft contact lenses has some type of disposable multifocal lens available. They do not work like multifocal glasses. They use a technique called simultaneous viewing where you are actually looking through all the powers at once.
To visualize this, imagine a vinyl record with the label in the center and the various tracks extending outward. Most of the lenses are made with the strongest reading power located in the center where the label would be, then each ring further out gradually becomes weaker until you reach your full distance power. So essentially you are looking "around" the reading part for distance then through the center for reading. It works, sort of.
Multifocal lenses work better on younger patients, say 40-50 years old, for help with reading. There is no adaptation period to these lenses like monovision. What you see is what you get. But if you have any significant amount of astigmatism or if you wear a toric contact that corrects for astigmatism, multifocal lenses are not for you. And because the reading is central in the lens, if you make it too strong for reading then you blur the distance vision too much, so oftentimes a multifocal lens wearer after age 50 faces a dilemma to either wear reading glasses to boost their reading needs or change to monovision.
Conclusion
In conclusion, while none of the options are perfect they all may present some level of relief in your quest to continue to wear contacts into middle age, retirement and beyond. But some options may better serve you at a certain point in your life or career than others. So while you happily wore contacts from your teens into your 40's, just because you're another year older is no reason to give them up. Talk to your ophthalmologist or optometrist to see what choices are best for you.
Article contributed by Eugene Schoener O.D.
The content of this blog cannot be reproduced or duplicated without the express written consent of Eye IQ
Read more: Over 40 and can't read with my contacts, what can I do?
Written by

Premier Eyecare
Here are 11 bad things that can happen if you don't wear and care for your contact lenses properly.
1) Sleeping in your contacts. This is the No. 1 risk factor for corneal ulcers, which can lead to severe vision loss and the need for a corneal transplant. Your cornea needs oxygen from the atmosphere because it has no blood vessels. The cornea is already somewhat deprived of oxygen when you have your eyes closed all night, and adding a contact on top of that stresses the cornea out from lack of oxygen. You don't need to see when you are sleeping. Take your contacts out!!!! I promise your dreams will still look the same.
2) Swimming in your contacts. Salt, fresh or pool water all have their individual issues with either bacteria or chemicals that can leach into your contacts. If you absolutely need to wear them to be safe in the water, then take them out as soon as you are done and clean and disinfect them.
3) Using tap water to clean contacts. Tap water is not sterile. See No. 2.
4) Using your contacts past their replacement schedule. The three main schedules now are daily, two weeks and monthly. Dailies are just that – use them one time then throw them away; they are not designed to be removed and re-used. Two-week contacts are designed to be thrown away after two weeks because they get protein buildup on them that doesn't come off with regular cleaning. Monthly replacement contacts need to have both daily cleaning and weekly enzymatic cleaning to take the protein buildup off. Using your lenses outside of these schedules and maintenance increases the risk of infection and irritation.
5) Getting contacts from an unlicensed source. Costume shops and novelty stores sometimes illegally sell lenses. If you didn't get the fit of the lenses checked by an eye doctor, they could cause serious damage if they don't fit correctly.
6) Wearing contacts past their expiration date. You can't be sure of the sterility of the contact past its expiration date. As cheap as contacts are now, don't take the risk with an expired one.
7) Topping off your contact lens case solution instead of changing it. This is a really bad idea. Old disinfecting solution no longer kills the bacteria and can lead to resistant bacteria growing in your case and on your lenses that even fresh disinfecting solution may not kill. Throw out the solution in the case EVERY DAY!
8) Not properly washing your hands before inserting or removing contacts. It should be self-evident why this is a problem.
9) Not rubbing your contact lens when cleaning even with a "no rub" solution. Rubbing the lens helps get the bacteria off. Is the three seconds it takes to rub the lens really that hard? "No rub" should never have made it to market.
10) Sticking your contacts in your mouth to wet them. Yes people actually do this. Do you know the number of bacteria that reside in the human mouth? Don't do it.
11) Not having a backup pair of glasses. This is one of my biggest pet peeves with contact lens wearers. In my 25 years of being an eye doctor, the people who consistently get in the biggest trouble with their contacts are the ones who sleep in them and don't have a backup pair of glasses. So when an eye is red and irritated they keep sticking that contact lens in because it is the only way they can see. BAD IDEA. If your eye is red and irritated don't stick the contact back in; it's worst thing you can do!
Article contributed by Dr. Brian Wnorowski, M.D.
The content of this blog cannot be reproduced or duplicated without the express written consent of Eye IQ
Read more: 11 Bad Contact Lens Habits That Can Ruin Your Vision
Written by

Premier Eyecare
Hygiene is critical to wearing your contact lenses
Contact lenses can significantly improve your vision but it's very important to care for them properly to avoid potentially serious infections or other problems.
Your habits, supplies, and eye doctor are all essential to keeping your eyes healthy so it's important to follow instructions for proper care and to call us if you have concerns.
These recommendations will help extend the life of your contact lenses and keep your eyes safe and healthy.
Your lens insertion and removal routine
Before you handle contacts, wash and rinse your hands with a mild soap.
Make sure the soap doesn't have perfumes, oils, or lotions. They can leave a film on your hands.
Dry your hands with a clean, lint-free towel before touching your contacts.
It's a good idea to keep your fingernails short and smooth so you won't damage your lenses or scratch your eye when inserting or removing your contacts.
Lightly rubbing your contact in the palm of your hand with a few drops of solution helps remove surface build-up.
Rinse your lenses thoroughly with a recommended solution before soaking the contacts overnight in a multi-purpose solution that completely covers each lens.
Store lenses in the proper lens storage case.
Don't use tap water or saliva to wash or store contact lenses or lens cases.
If you use hair spray, use it before you put in your contacts.
Put on eye makeup after you put in your lenses. Take them out before you remove makeup.
Always follow the recommended contact lens replacement and wearing schedule prescribed.
Your supplies
Use doctor-recommended solution.
Rub and rinse your contact lens case with sterile contact lens solution. Never use water.
Clean the case after each use.
Replace your contact lens case at least once every three months.
Don't "top off" solution. Use only fresh contact lens disinfecting solution in your case.
Never mix fresh solution with the old or used solution.
Change your contact lens solution according to the manufacturer's recommendations.
Your eye doctor
Visit us yearly or as often as recommended.
Ask us if you have questions about how to care for your contacts and case or if you are having any difficulties.
Remove your contact lenses immediately if your eyes become irritated. Call us and let us know what's going on.
Call us if you have any sudden vision loss, blurred vision that doesn't get better, light flashes, eye pain, infection, swelling, unusual redness, or irritation.
Wear your contacts safely
Some contacts need special care and products. Always use the disinfecting solution, eye drops, and enzymatic cleaners your doctor recommends. Some eye products or eye drops aren't safe for contact wearers.
Saline solution and rewetting drops do not disinfect lenses.
Use a rewetting solution or plain saline solution to keep your eyes moist.
Don't wear your contacts when you go swimming in a pool or at the beach.
Don't sleep in your contact lenses unless prescribed by your eye doctor.
Don't clean or store your contacts in water.
See us for your regularly scheduled contact lens and eye examination.
If you think you'll have trouble remembering when to change your lenses, ask for a chart to track your schedule or make one for your needs.
Be sure to call us if you have any questions about caring for your contact lenses or if you're eyes are having problems.
Read more: Hygiene is critical to wearing your contact lenses
Written by

Premier Eyecare
Mark your Calendars!!! On Monday, Aug. 21, 2017, a solar eclipse will be visible across the entire continental United States.
A solar eclipse occurs when the moon blocks any part of the sun, and with this one, all of North America will experience at least a partial eclipse lasting 2 to 3 hours.
A lucky few million people along a 70-mile-wide path from Oregon to South Carolina will experience a brief total eclipse when the moon completely blocks the sun for up to 2 minutes. For that 2 minutes or so it will look like nighttime along that path.
This total eclipse will make the solar corona visible, and stars and the planets may also be visible during this time.
But looking directly at the sun before it is covered is unsafe. Although there is a limited chance of eye damage if you are in the proper area during the total eclipse it is not worth the risk of retinal damage to even take a quick look at the eclipse if it is not "total".
A large part of the country is not along the pathway where the eclipse will be total so you should not look at the sun without protection.
The only safe way to look directly at the eclipse is through special solar filters, such as "eclipse glasses" or hand-held solar viewers.
Ordinary sunglasses, even if they are very dark and polarized, are not safe for looking at the sun. To date, four manufacturers have certified that their eclipse glasses and handheld solar viewers meet the ISO 12312-2 international standard for such products: Rainbow Symphony, American Paper Optics, Thousand Oaks Optical, and TSE 17.
All the companies above have instructions printed on or packaged with their filters. You MUST follow the instructions to keep your eyes safe. Always supervise children using solar filters.
Specific instructions are found below, courtesy of NASA's eclipse website https://eclipse2017.nasa.gov/safety:
1. Stand still and cover your eyes with your eclipse glasses or solar viewer before looking up at the bright sun. After glancing at the sun, turn away and remove your filter - do not remove it while looking at the sun.
2. Do not look at the uneclipsed or partially eclipsed sun through an unfiltered camera, telescope, binoculars, or other optical devices. Similarly, do not look at the sun through a camera, a telescope, binoculars, or any other optical device while using your eclipse glasses or hand-held solar viewer - the concentrated solar rays will damage the filter and enter your eye(s), causing serious injury. Seek expert advice from an astronomer before using a solar filter with a camera, a telescope, binoculars, or any other optical device.
3. A solar eclipse is one of nature's grandest spectacles. By following these simple rules, you can safely enjoy the view and be rewarded with memories to last a lifetime. An eclipse is a rare and striking phenomenon you won't want to miss, but you must carefully follow safety procedures. Don't let the warnings scare you away from witnessing this singular spectacle! You can experience the eclipse safely, but it is vital that you protect your eyes at all times with the proper solar filters. No matter what recommended technique you use, do not stare continuously at the sun. Take breaks and give your eyes a rest! Do not use sunglasses: they don't offer your eyes sufficient protection. One excellent resource for safe solar eclipse viewing is here: http://www.nasa.gov/content/eye-safety-during-a-total-solar-eclipse.
The solar eclipse is a spectacular sight but please remember to watch it safely.
Article contributed by Dr. Brian Wnorowski, M.D.
This blog provides general information and discussion about eye health and related subjects. The words and other content provided on this blog, and in any linked materials, are not intended and should not be construed as medical advice. If the reader or any other person has a medical concern, he or she should consult with an appropriately licensed physician. The content of this blog cannot be reproduced or duplicated without the express written consent of Eye IQ.
Written by

Premier Eyecare
Is making an appointment for a comprehensive eye exam for your children on your back-to-school checklist? It needs to be.
No amount of new clothes, backpacks or supplies will help your child succeed in school if they have an undetected vision problem.
The difference between eye exams and vision screenings
An annual exam done by an eye doctor is more focused than a visual screening done at school. School screenings are simply "pass-fail tests" that are often limited to measuring a child's sight clarity and visual acuity up to a distance of 20 feet. But this can provide a false sense of security.
There are important differences between a screening and a comprehensive eye exam.
Where a screening tests only for visual acuity, comprehensive exams will test for acuity, chronic diseases, color vision and make sure the eyes are working together properly. This means a child may pass a vision screening at school because they are able to see the board, but they may not be able to see the words in the textbook in front of them.
Why back-to-school eye exams matter
Did you know that 1 out of 4 children has an undiagnosed vision problem because changes in their eyesight go unrecognized?
Myopia, or nearsightedness, is a common condition in children and often develops around the ages of 6 or 7. And nearsightedness can change very quickly, especially between the ages of 11 and 13, which means that an eye prescription can change rapidly over a short period of time. That's why annual checkups are important.
Comprehensive eye exams can detect other eye conditions. Some children may have good distance vision but may struggle when reading up close. This is known as hyperopia or farsightedness. Other eye issues such as strabismus (misaligned eyes), astigmatism or amblyopia (lazy eye) are also detectable.
Kids may not tell you they're having visions issues or even realize it. They may simply think everyone sees the same way they do. Kids often give indirect clues, such as holding books or device screens close to their face, having problems recalling what they've read, or avoiding reading altogether. Other signs could include a short attention span, frequent headaches, seeing double, rubbing their eyes or tilting their head to the side.
What to expect at your child's eye exam
Before the exam, explain that eye exams aren't scary, and can be fun. A kid-friendly eye exam is quick for your child. After the doctor tests how she sees colors and letters using charts with pictures, shapes, and patterns, we will give you our assessment of your child's eyes.
If your child needs to wear glasses, we can even recommend frames and lenses best for their needs.
Set your child up for success
Staying consistent with eye exams is important because it can help your kids see their best in the classroom and when playing sports. Better vision can also mean better confidence because they are able see well.
Because learning is so visual, making an eye examination a priority every year is an important investment you can make in your child's education. You should also be aware that your health insurance might cover pediatric eye exams.
With clearer vision, help make this school year their best ever!
Written by

Premier Eyecare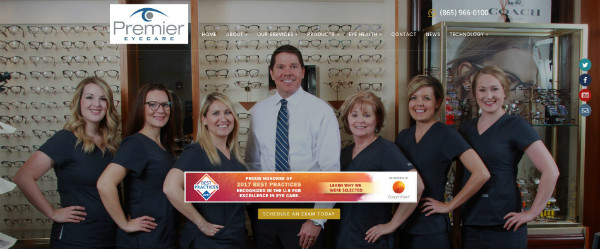 After a lot of hard work with EyeMotion, our website company, we're pleased to be launching our brand-new website. Our goal has been to create a site that would assist you in learning about us, whether it's finding our location or email form, reading about our wonderful eye doctors, or discovering some of our quality products and services.
Have questions about an eye issue? We think you might also benefit from our great optometric content on eye diseases and conditions.
Our plan is to use this area to keep you informed on new offerings, sales, trunk shows, events, and so much more. Check back here from time to time to keep updated.
We're glad you found us, and we hope to see you soon!
Written by

Dr. Brent Fry
Corneal Refractive Therapy (CRT) is a non-surgical way to correct near-sightedness (myopia) without the need for daytime glasses or contact lenses. Rigid gas-permeable contact lenses are prescribed to be worn overnight to temporarily reshape the cornea (clear, front part of the eye). When an idividual is near-sighted, objects are out of focus in the distance because light is focused in front of the retina. This occurs when either the eye is too long, the cornea is too steep, or a combination of the two. CRT lenses are worn overnight which reshape (flatten) the central cornea much in the same way LASIK flattens the cornea with a laser. The difference is that LASIK is permanent and CRT is temporary. The effects of cornea reshaping by CRT lasts from 24-48 hours. If the CRT lenses are discontinued, the cornea will eventually return to its natural shape and therefore, myopia will return. CRT lenses are a great choice for those who are not old enough for LASIK or those who do not want to undergo surgery to correct their myopia.
Many parents are choosing CRT for their children to attempt to slow down the progression of myopia. Although myopia control is not proven and therefore cannot be claimed, there are many articles written on the subject of myopia control. Myopia progression in growing individuals cannot be stopped or reversed by wearing CRT lenses, however, there is evidence that it may help to slow down the progression of myopia. If you are considering CRT lenses for yourself or a family member, I would recommend scheduling an appointment with an eye care professional who is skilled and experienced in fitting CRT lenses. Not everyone is a candidate for CRT lenses, but for those who wear them in my practice, they absolutely love them!
Written by

Dr. Brent Fry
Most people have heard of astigmatism and many have even been told that they have astigmatism. If you are at all confused or unsure of what astigmatism is and what is means to your vision, you may want to read this.
The official definition of astigmatism is: a defect in the eye or in a lens caused by a deviation from spherical curvature, which results in distorted images, as light rays are prevented from meeting at a common focus.
Ok, so how does astigmatism affect your vision and what can you do about it? Astigmatism not only can blur your vision, it also distorts your vision. If it is mild, astigmatism can cause a slight blurring of your vision causing the need to squint to clear up the images you are viewing. If it is moderate or severe, astigmatism can significantly blur your vision and cause eyestrain and headaches if left uncorrected.
How should astigmatism be treated? The common treatment for astigmatism is glasses or contact lenses. LASIK can also be used to correct astigmatism. Depending on the severity of the astigmatism, your options may be limited. The good news is that with modern technology, we have excellent options to provide you with clear, comfortable vision, regardless of the severity of your astigmatism.
The first step to take to understanding your vision is to see your eye doctor. After thoroughly examining your eyes, your eye doctor will be able to determine if you have astigmatism, the severity, the type (corneal or lenticular),and the treatment options which will be best for your individual needs. If it is determined that you have severe astigmatism, your treatment options will be limited and it is imperative that you find an eye doctor who is skilled in fitting specialty contact lenses. If contact lenses do not interest you, then make sure you choose the best lenses for your eyeglasses. Your licensed optician will help you choose the best lenses for astigmatism. There are many lens options available to you and it is important to understand your options. If you choose solely based on price, you will most likely be disappointed.
Astigmatism is only one type of refractive error that can blur our vision. The more commonly known conditions are myopia (near-sightedness) and hyperopia (far-sightedness). Astigmatism can exist alone, or can be combined with myopia or hyperopia. The more complex the refractive error, the more important it is to choose the right treatment options. Our vision can be very complex and it is important to rely on eye care professionals to provide you with the best options.
Bottom line: Annual eye exams are not only important for eye health, they are also important to provide you with the best options for vision correction. When choosing an eye doctor, do your homework and make sure you are choosing an eye doctor who will provide you with the best treatment options. We rely on our vision every day. Make sure your vision is the best it can possibly be.
Written by

Dr. Brent Fry
Have you ever been told that you have keratoconus? Keratoconus is a condition that affects the front surface of the eye called the cornea. Many people who have keratoconus do not even know it. In its beginning stages, keratoconus is very difficult to detect. Your eye doctor can detect keratoconus in its early stages using a corneal mapping device called corneal topography. Keratoconus usually presents in early adulthood and can progress as one ages. It is important to detect keratoconus in its early stages and to see an eye doctor that is very familiar with the disease and treatment for it.
There are many types of contact lenses designed for keratoconic corneas. In most cases of keratoconus, eyeglasses provide less than optimal clarity due to the warping effect of the cone. By using specially designed contact lenses, visual acuity can be improved above and beyond what eyeglasses can provide. Traditional soft contact lenses also fall short in acuity because they take the shape of the cornea and do not address the conical shape of the cornea.
A new procedure that has recently been approved by the FDA is called corneal cross-linking. This procedure is used to slow down the progression of keratoconus in young adults. Even after cross-linking, the keratoconus must still be addressed with specialty contact lenses to provide optimal vision. Cross-linking does not reverse the effects of keratoconus, but rather slows down or halts the progression of the disease.
Keratoconus can be hereditary so it is important to stress the importance of regular eye examinations for family members of people with keratoconus. If keratoconus is diagnosed early, the prognosis is much better. It is important to find an eye doctor who is experienced in fitting specialty lenses. Keratoconus contact lenses can be rather expensive. Some vision plans provide very good benefits for "medically necessary" contact lenses.
Written by

Dr. Brent Fry
We are now into February and I would assume most of us are looking forward to the warmer days of spring. Although sunglasses should be worn year-round, many people associate sunglasses with warm, sunny days. Now is a good time to consider upgrading your sunglasses. If you already enjoy wearing high quality polarized sunglasses, then you are in the minority. Unfortunately, high quality sunglasses usually make people think "expensive". It is true that high quality sunglasses have a higher price tag, but this is one area that you truly get what you pay for.
We wear sunglasses for fashion, visual comfort and clarity, and for protection from harmful sunlight. If your sunglasses don't provide all of those things, then you need to find some that do. The higher the quality of sunglasses, usually the higher the price tag. That doesn't always hold true in reverse. There are plenty of high priced sunglasses that are not necessarily the highest quality. The main thing that seperates the quality of the sunglasses in the high price category is the lens. If the lenses don't protect your eyes properly, including UV and blue light, and provide high quality optics, then you should look for some that do.
We have many options in sunwear and you should rely on your eye care professionals to find the right sunglasses for you. Fortunately, if you rely on prescription eyeglasses to see, the higher quality sunglasses also come in prescription. These lenses are made with the same technology that the non-prescription lenses are made. Keeping your eyewear properly adjusted will ensure that your sunglasses remain as comfortable and the optics are a clear as possible.
Your eyes are precious. Don't skimp on quality to save a buck. Your eyes will thank you for it!
Written by

Dr. Brent Fry
The answer to the above question is....it depends. You most likely have been told that sleeping in your contact lenses is not a good idea and could cause some major problems. That can be true, but it is not necessarily always true. With the new materials that modern contact lenses are usually made from, silicone hydrogel, the problem is not hypoxia (lack of oxygen permeation). One could argue that the eye gets nearly as much oxygen with most "extended wear" lenses as is does without a lens on the eye. The problem lies in the cleanliness of the lens and surface deposits. As a contact lens sits on the surface of the eye, it is exposed to atmospheric debris, tears, and other foreign substances. Over the course of the day, these foreign elements will adhere to the surface of the lens. If the lens is not removed routinely and cleaned and disinfected, irritation can occur and lead to serious complications. Eye infections, especially the kind that affect the cornea, can lead to permanent damage to the eyes and vision.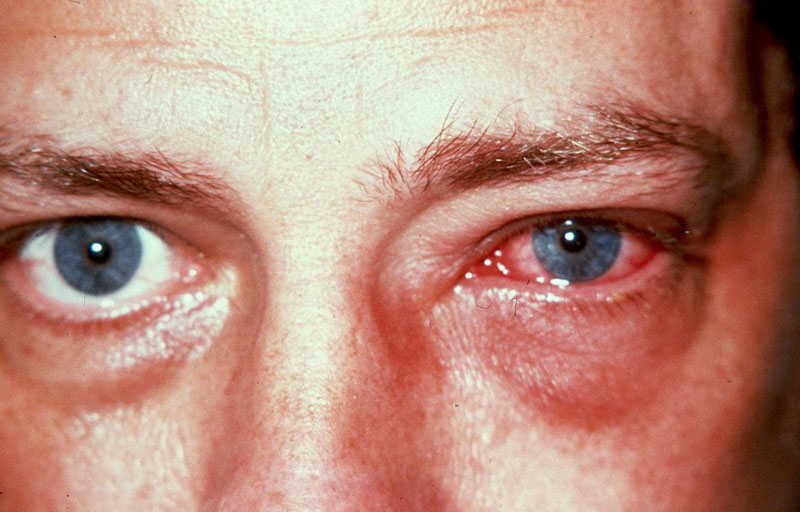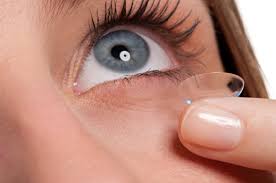 Infection from contact lens abuse Healthy contact lens wear
If cleaning your contact lenses seems like too much work, you may want to consider daily disposable contact lenses that are worn once and thrown away.
There is, however, a type of contact lens that is actually prescribed to be worn overnight, on purpose! The difference in these contact lenses is that they reshape the cornea in order to change the refractive error. This only works with those individuals that are near-sighted and may have mild to moderate astigmatism. CRT lenses (corneal refractive therapy) are worn overnight and removed in the morning. After removal, the lenses are cleaned and disinfected during the daytime.
So, now you see why the answer is a little more complicated than you may have thought. It is important to discuss your individual needs with your eye doctor and make sure that you are compliant with the wear schedule that your eye doctor prescribes. Contact lenses come in many forms and can seem pretty complicated. It is the job of your eye doctor to take care of your eyes and prescribe the healthiest option for your needs. It is your job to comply. Remember, if you really want to wear contact lenses, you most likely can. Schedule an appointment with your eye doctor in order take advantage of the many healthy contact lens options that you have.
Brent B. Fry, O.D.
Written by

Dr. Brent Fry
featured
today in the Farragut Press.