As a fully licensed and equipped optometric practice, Premier Eyecare offers a complete range of eye care services to all our patients.
Whether the eye care issue involves correcting refractive errors with eyeglasses or contact lenses or helping a student find frames that she is proud to wear, our experienced team will identify and implement the best eye care solutions possible.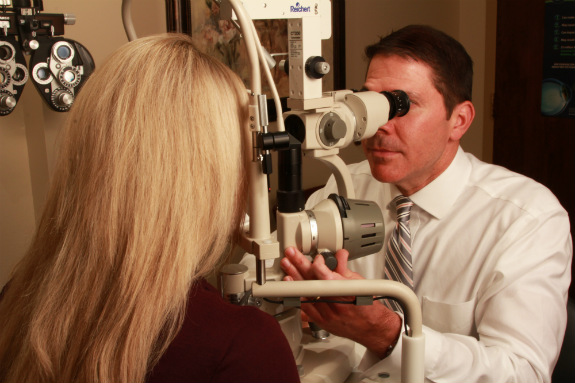 Eye Health Evaluation
With our years of experience in diagnosing and treating such typical vision disorders as nearsightedness, farsightedness, amblyopia, presbyopia, cataracts, macular degeneration and diabetic retinopathy, Dr. Fry and his team are equipped to provide appropriate therapeutic medical eye care.
At the same time, the Premier Eyecare team offers a wide array of the very best, highest-quality eye care products at reasonable prices. Our patients never pay more than necessary for the best quality in eyeglasses, contact lenses, sunglasses, progressive and bifocal lenses.
Treatment of Eye Disease and Disorders
If you are diagnosed with an eye disease or infection, you want only the best treatment available to get your eyes healthy again. At Premier Eyecare, we offer only the best. Based on your diagnosis, we may recommend a wide variety of approaches, including prescription medicines and therapy, or medical procedures.
OCT Retinal Imaging
The latest technology in retinal imaging offers our patients the ability to choose an iWellness screening option to complement their comprehensive eye exam. This technology provides our doctor with a cross section view of the retinal layers which is not available through traditional examination methods. We recommend that all of our patients add this screening to their eye examination, especially those with personal or family history of diabetes, hypertension, glaucoma, or macular degeneration.
Optomap Retinal Imaging
In our continued efforts to bring the most advanced technology to our patients, Premier Eyecare is proud to offer optomap retinal imaging. This is a scan of your retina to create an overview or map, giving your doctor an overall view of the retina. Click here for more info.
It is fast, easy and comfortable. Optomap helps identify healthy eyes and helps detect the presence of disease. These retinal images are a great asset to your medical record as they allow your eye doctor to make important comparisons if potential problems show themselves at a future examination.
Optos Daytona from Optos on Vimeo.
Macular Pigment Ocular Density
To read more, please click here--http://www.eyepromise.com/doctors/about/macular-pigment/ There is also a short, helpful video.
Good Eyecare Begins With A Yearly Exam!
Although many don't realize it, the best way to protect your vision is with a yearly eye checkup. Even a comprehensive eye exam can instantly detect such health-threatening conditions as tumors, vascular irregularities and diabetes-related injury to the retina. At Premier Eyecare, that annual checkup is brief and painless.